A culture of sustainability and self sufficiency is paramount to Hawaii's future especially as we stride confidently into a new decade. The Aloha + Challenge is a statewide pubic and private commitment to achieve Hawaii's new social and economic benchmarks as well as goals for the environment, all by 2030. Founded on radical collaboration and vision, we can each be crucial in helping our islands process through a framework of achievement. Furthermore, our homes can reflect ways to reach suitability goals for our families and the planet. Of the six main priorities and key metrics to accomplish island led solutions, let's take a look at how three goals in particular can add to the vision of Hawaii's self sufficiency in our homes and how one of our clients has used their home as a platform for self sufficiency.
Clean Energy
Hawaii is extremely reliant on petroleum and imported means for both electricity generation and transportation. Renewable Energy tools and technology integration and modernized practices can make a big impact. Technology such as Photovoltaic Fields and roofs as well electric vehicles that can charge in your garage are great options to add to your home and lifestyle. 4170 Waiakalua features a 15KW photovoltaic solar system to help power the property.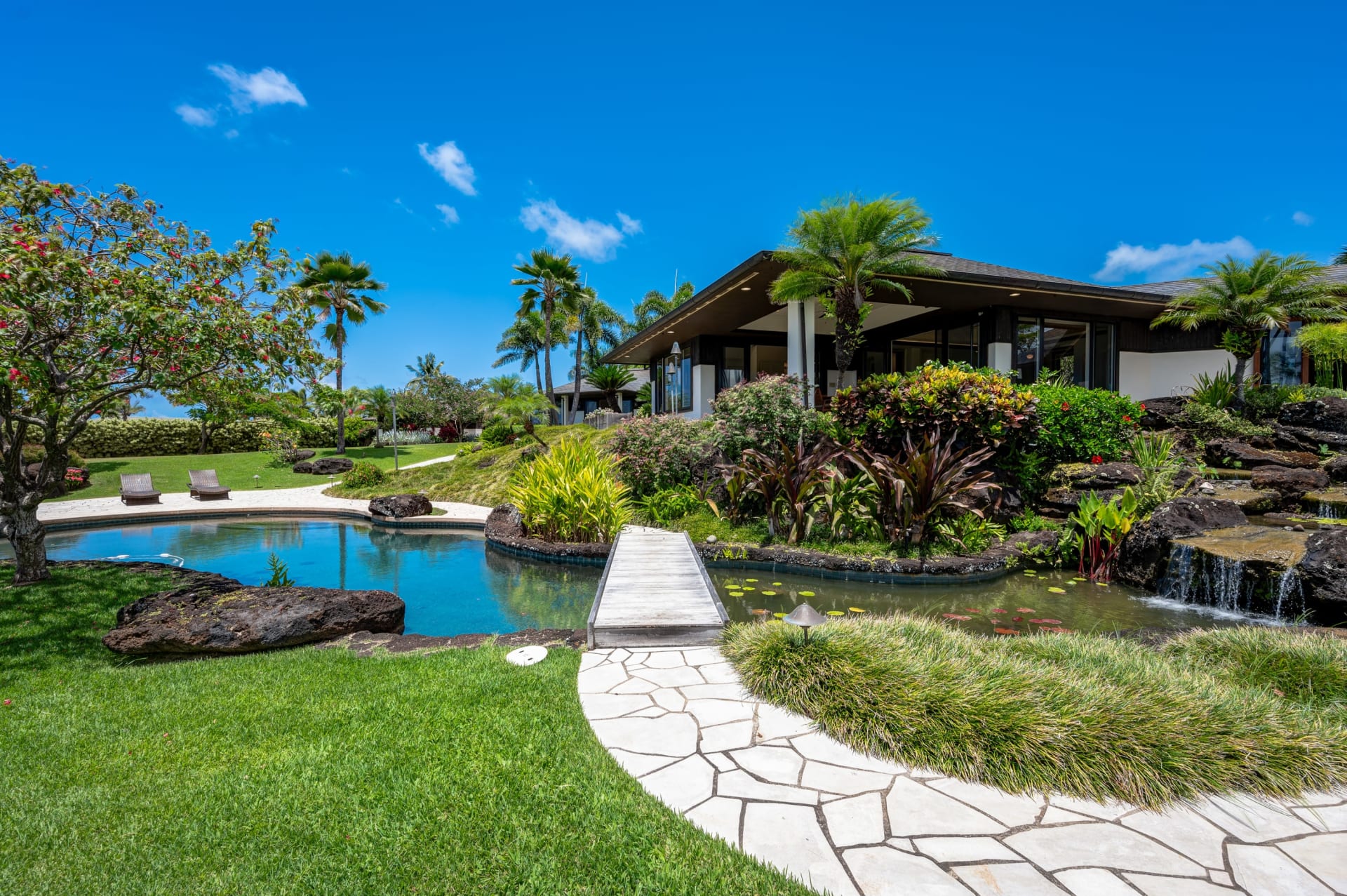 Local Food
Hawaii's Aloha + challenge goal for food production and consumption is to double local food production by 2030. Hawaii has a long history of food self sufficiency and food sovereignty wisdom and practices that have since disappeared in the modern age. 90% of Hawaiis food is imported and as we rely so heavily on imports our food security is always at risk. Why not plant a garden and grow your own fruits and vegetables. 4170 Waiakuala has a lower terraced orchard of avocado, orange, lemons, limes, starfruit and other productive fruiting trees. A delicious and sustainable tropical sanctuary.
Natural Resource Management
Our resources are precious and limited on the garden island and freshwater demand is on the rise. As defined by the Fresh Water Initiative, there will be an increased need of 100 million gallons of additional freshwater capacity into 2030.
Our Waiakalua clients have increased freshwater security and capacity on their property by installing a private freshwater well as well as upgrading their septic system.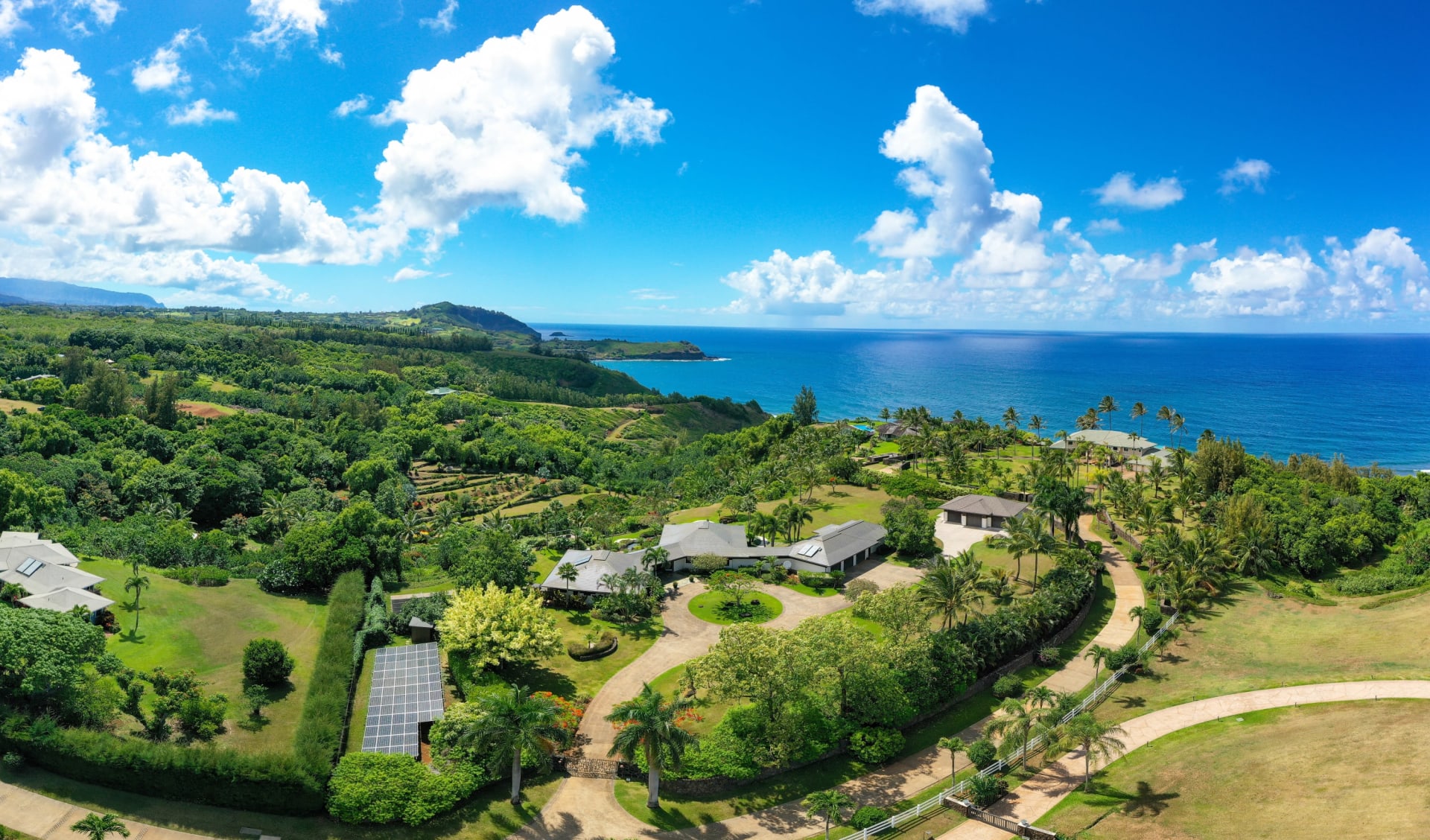 If you're interested in a property in Hawaii that is focused on self-sufficiency let us know, The Waiakalua Property is available for viewing. If your interested in adding elements of self-sufficiency to your current home, we can help. We have exclusive connections to trusted and qualified partners, manufacturers and installation professionals.
2.71 acres I 3461 sqft I 3BR/4BA I MLS#639319 I Offered for $6,500,000
Amy Frazier RS-60993 Realtor-Assoc. 808.639.9011 amy.frazier@compass.com
Billy Eckert RS-72094 Realtor Assoc. 808.212.6658 billy.eckert@compass.com
Compass